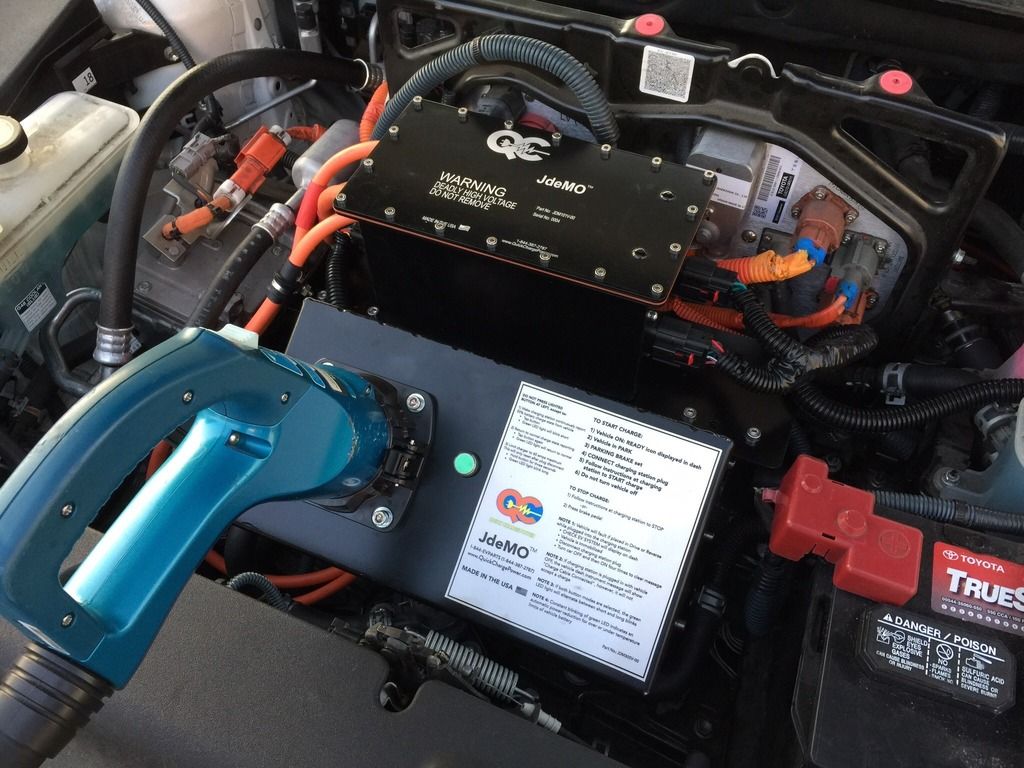 **************
Here's where to buy:
http://shop.quickchargepower.com/JdeMo- ... MORav4.htm
***************
Existing JdeMO installations around the world.
Red = Alpha Tester
Orange - Production, installed, operational
White - Shipped, not installed
Yellow - Ordered, not shipped
http://www.zeemaps.com/view?group=14952 ... 57720&z=13
*************
Here's a super-nerd excel file that I cobbled together to calculate optimum driving speed when charging enroute:
https://www.dropbox.com/s/n1bz3u2hfnvmk ... .xlsx?dl=0
*************
Recommended network cards / fobs / apps to have:
1) Oregon / Washington - AeroVironment West Coast Electric Highway - 1-888-833-2148 -
http://www.evsolutions.com/ev-network
- $19.99 per month unlimited or ad hoc $7.50 per charge. Can pay through PlugShare app.
2) California, Texas, many other states - NRG / eVgo -
http://www.nrgevgo.com/charging-plans-by-market/
- 1-855-509-5581, no app
3) USA, ChargePoint -
http://www.chargepoint.com/activate/
- 1-866-480-2936, pricing varies, ChargePoint app available
4) others:
a. Greenlots
b. OpConnect
c. EVconnect
d. Blink - Electric Car Charging
*************
JdeMO for DC quick charging of the 2012-2014 Toyota Rav4 EV is available from Quick Charge Power.
FAQ's:
1) How fast will the Rav4 EV be able to charge?
Answer: It will charge at approximately 380 volts DC and 125 amps max, or a maximum of 47.5kW. The low battery voltage speed is 300 volts at 125 amps max, or 37.5kW. That means that it can charge from:
0% to 80% - 45 minutes
20% to 80% - 38 minutes
80% to 100% - 30 minutes
2) What kind of chargers can I use?
Answer: You will still be able to use the existing J1772 plug for charging, and additionally will also be able to also use any CHAdeMO charge station anywhere in the world. This is commonly known as the same quick charger used for the Nissan LEAF, KIA Soul EV or Mitsubishi iMiev.
You specifically will NOT be able to use the Tesla Supercharger system, nor will it work at SAE CCS Combo1 chargers used by GM Spark EV, BMW i3 and Volkswagon eGolf.
3) Where are these CHAdeMO chargers located?
Answer: We recommend using
http://www.PlugShare.com
or
http://www.chademo.com
to find a station.
4) Will JdeMO damage the car in any way?
Answer: No, If operating as designed. But, increasing the charge rate to any battery that has ever been designed in the history of mankind will likely shorten the battery's lifespan.
5) Will it void my warranty?
Answer: It should not void any warranty, however we do not have control of how any auto manufacturer will likely handle a battery warranty claim. In all likelihood, any battery failure would likely be blamed on any product connected to the battery, no matter how unlikely it actually did damage. Therefore, each JdeMO sale will require a "hold harmless" agreement that indemnifies Quick Charge Power LLC from any claim.
Magnuson-Moss Act
http://en.wikipedia.org/wiki/Magnuson%E ... rranty_Act
The Magnuson-Moss act was enacted by Congress in response to the widespread misuse by merchants of express warranties and disclaimers. The legislative history indicates that the purpose of the Act is to make warranties on consumer products more readily understood and enforceable and to provide the Federal Trade Commission with means to better protect consumers.
The statute is remedial in nature and is intended to protect consumers from deceptive warranty practices. Consumer products are not required to have warranties, but if one is given, it must comply with the Magnuson-Moss Act.
6) Will there be a warranty on the JdeMO?
Answer: All Quick Charge Power products offer a one year limited warranty.
7) Will it be possible to remove JdeMO on a lease return car?
Answer: Yes , but only by personnel specifically authorized in writing by Quick Charge Power.
8) Do I need to remove JdeMO to have normal service or maintenance performed?
Answer: Absolutely not. We specifically do not want you handling, modifying, repairing or in any way changing JdeMO except to recharge your Rav4 EV from a CHAdeMO charger. If you need to remove JdeMO for any reason, contact Quick Charge Power for instructions.
WARNING: HIGH VOLTAGE CAN KILL. DO NOT TOUCH, MODIFY, HANDLE, REPAIR OR CHANGE JdeMO IN ANY WAY.
9) Can I charge with a CHAdeMO charger and the J1772 plug at the same time?
Answer: No.
10) Can I install JdeMO myself?
Answer: YES!!! contact Quick Charge Power for instructions.
WARNING: HIGH VOLTAGE CAN KILL. DO NOT TOUCH, MODIFY, HANDLE, REPAIR OR CHANGE JdeMO IN ANY WAY.
11) Can my local Toyota dealer install JdeMO?
Answer: Yes, with a properly trained Prius or EV trained technician.
12) How long will it take to install?
Answer: About 3-4 hours
13) Will JdeMO be able to power my house through the CHAdeMO plug?
Answer: Yes, if the Vehicle to Grid / Home equipment is compatible with CHAdeMO, therefore with appropriate external equipment, it MAY work. No work has been done to work specifically with Vehicle 2 Home or Vehicle 2 Grid.
14) I have heard that CHAdeMO in the future will be 100kW capable. Will JdeMO be able to charge at that rate?
Answer: No, because in order to get the full 100kW would require a 500 volt battery. Like most modern electric vehicles, the Rav4 EV uses a 350 - 415 maximum volt battery, therefore the maximum charge rate would be 200 amps multiplied by 380 volts, or about 76kW max. Additionally, we do not know if the plug will be the same.
JdeMO for the RAV4 EV is restricted to 125 amps.
15) Where will JdeMO be mounted?
Answer: It will all fit entirely under the hood. To charge, you will open the hood and plug in the CHAdeMO plug. A "behind the bumper" mount kit may be an option in the future.
16) How much will it cost?
Answer: $2999, plus installation, any options, shipping, taxes, and surcharges.