10basetom wrote:
I think my 2013 Rav4 EV finally bit the bullet the past weekend when I was driving on the freeway and the motor suddenly died (pressing on accelerator did nothing) with a "Check EV System - Have Your Vehicle Checked by a Dealership Immediately" message. Needless to say, this was very stressful since I had my family with me and needed a way to quickly get to the shoulder without causing an accident as my car was quickly losing speed.

After getting towed to AutoNation Toyota Irvine on Sunday, I finally heard back from them: they said after three days consulting with a Toyota technician, they've identified the root cause to a faulty electric motor assembly. UPDATE: the service tech just emailed me the error codes:

[s]Internal failure to Electric motor[/s] - is not correct - alflash
Codes p312f, c1259[/i]

This is the quote they emailed me to get this fixed:

Labor $1950.00
Parts $5940.41
Tax $460.35
TOTAL $8350.76

Ouch. This is not something we can afford, and I have already dropped $866 on this car last year for a battery charging issue that I later realized was misdiagnosed. I'm not even sure where to go to get a second opinion since people who specialize in this model are few and far between.

What are my options if you were in my shoes? After discussing with the dealership and a buddy of mine, here's what I have so far:

- Sell the car to AutoNation
- Try to get the auto insurance to pay for the repairs
- Scrap the car and sell the EV battery pack
- Scrap the car for total loss
I sympathize you.
The P312f code, which is stored in the Toyota EV System memory, is only a consequence of a malfunction in the Tesla systems of your vehicle.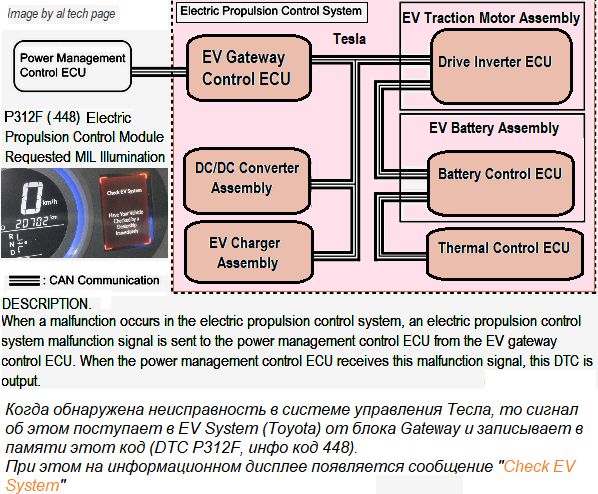 Same as DTC C1259 / 58 = "EV Control System Regenerative Malfunction".
It is necessary to diagnose Tesla systems, in other words, read its fault codes, system parameters and more.
Can you describe all the symptoms of a malfunction in this form?
https://alflash.com.ua/service/rav4ev-p ... ze-list-2/
CID Calibration of your RAV4EV?