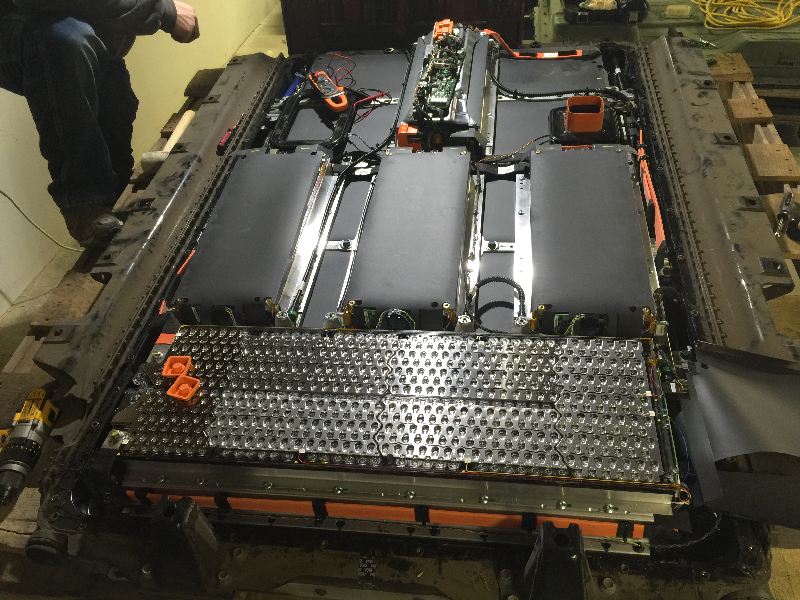 Always wondered if there was any extra space in the case. From the looks of it in this picture from
http://99mpg.com/blog/somanybatteriessolittletime/
My depth perception is not that good. Am I seeing 5 bumps with batteries inside of them and space between the humps? or is it humps on top of the pack and then more cells on the bottom? Hard to tell. It almost seems to be like it is 5 humps with batteries then the bottom of the shell pack under them. If so this could mean that there is extra space in there for more battery cells.
Ok, I feel that there IS extra space inside the battery shell of our RAV4 EV to put in more battery cells. Though, it does not seem to be a lot of extra space with the battery shell cover. HOWEVER, from the cutaway of our RAV4 EV below I see that the hard shell has a metal cover up top. I guess that is there for safety reasons? There is also space between the Tesla Battery pack and the floor of our RAV4 EV Body. I personally would say that if the hard shell on top of the Tesla Battery pack is removed there would be extra space for more battery cells to be stacked. I'm not sure how thick the top cover of the Tesla Battery pack is... but that is certainly taking up space.
I feel that we could stack a few extra cell modules from another rav4 ev on top of the current cells.
Further more I think we could even create more space if we were to lengthen the bolts that hold the shell on the rav4 ev by a inch and add metal sub frame to take up the space on the edges.
I found a picture of the RAV4 EV Battery Shell cover. I know I had seen it posted by another member in the forums:
viewtopic.php?f=8&t=765
So I do see the irregularities on the top shape that hold the battery cells inside. This does lead me to believe that if the top battery shell cover is removed... it would create more space for additional battery cells... plus the extra space between the rav4 ev floor and the battery shell (With out the cover) would allow us to place more battery cells in there.
Here is a Tesla Model S 85 kWh pack cracked opened
https://teslamotorsclub.com/tmc/threads ... ack.34934/
The cover is sooo smoooth when compared with the cover on our pack. Ours looks like it has mountains going up and down. Model S looks to be really nice and flat... plus the front of the pack has slight arcing which I think is for the front wheels? Meaning they really went all out trying to get more cells in there moving them forward as much as possible.
I guess ANOTHER OPTION if we want to get some more cells in to our RAV4 EV we might as well snatch one of those Model S battery Shell Containers and see if it can fit under our car? If it could and if we could mount it some how under the rav4 ev then I am sure we could definitely get a good KWH upgrade going.
Thoughts on that? I'd guess the biggest issue would be how wide is the pack. I think the RAV4 EV is narrower than the Model S. The difference is 5 inches. Not sure if that would be too huge of a difference.... Pack Shell Wise.
Model S 40 RWD
Weight: 4647.3 lbs
196″ L x 77″ W x 57″ H
Rav4 EV FWD
Weight: 4,032 lbs lbs
180″ L x 72″ W x 66″ H
Here is a 60 KWH pack opened.
Here is an empty pack