Sorry, I haven't been online in a couple of days.
Coolant both transfers heat from one place to another
and
prevents corrosion from chemical decomposition and electrolysis (and, in certain ICEs, from micro-cavitation events). It also has to function as a lubricant to pump seal(s).
Plain water transfers heat fairly well, but it completely fails to protect against corrosion, mineral build-up, and gradual acidification from gasket etc. leakage in ICEs. It also freezes at far too high a temperature, and is not the best sliding seal lubricant.
Mfgrs have figured out how to formulate a mix of additives to water to optimize a coolant that will also damp down some of those issues. For a long time, automotive coolant was a one-size-fits-all product, and you could pick from anyone's automotive coolant and it would likely work well enough.
Recently (let's say, the past twenty years), coolant formulations have diversified for new engine design requirements. Some engine mfgrs have begun using new or unusual metallurgy or mixes of metals, elastomers, and plastics with different coolant requirements. You may have noticed that coolant no longer comes only in green now, but yellow (Ford, etc.), blue (European models), red (Toyota, etc.), pink (some GM), orange. It's not
all
color-branding, these colors do (sometimes) have a purpose.
It's not that you can't use one type of coolant in any old engine, but that one coolant may not protect any particular engine design as well as the additive formulation that the OEM specified.
G-48 is a specific formulation. Tesla specs it, and I assume chose that formulation -- and not another -- for a reason. I am not a materials engineer, and I have limited insight into what data Tesla's engineers used to determine that G-48 is the best formulation for use in my Teslas, and I've made enough expensive mistakes to have learned this particular lesson.
Having said that, I would have little reservation using one mfgr's G-48 coolant over another's.
(I seem to recall one issue with GM engines in the '90s when using the wrong coolant and intake manifold gasket degradation, leaking coolant into the intake?)
[later, after some light reading]
Typical green-colored coolants used to use nitrites to coat parts for corrosion protection, but this seems to not work as well with aluminum alloy brazing flux (or something like that). Organic Acid Technology coolants seek to provide this protection without use of nitrites. OAT coolants are not green (is what I'm reading).
G-48 seems to be hybrid organic acid technology (HOAT), with low silicate, low pH and phosphate/nitrite free.
Limiting my reading on this, a decent summary of some of the many recent coolants has been put together by
Valvoline
. I see I may have some of my colors<->mfgrs mixed up, above.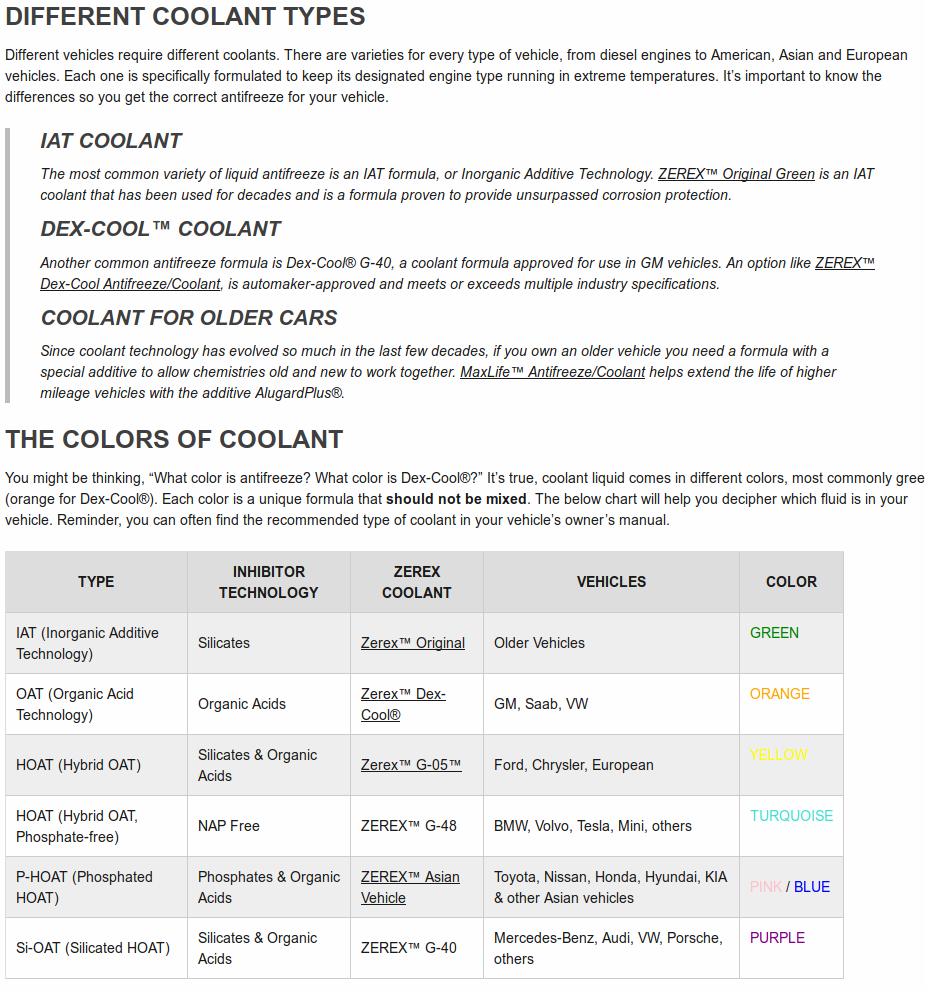 tl;dr
Horses for courses; one size does not fit all.