As I've previously mentioned, I purchased some cells which I believe are the most similar to the cells in our RAV4EV to get an idea of capacity fade. It has been rumored that the cells are NCR18650 by Panasonic. This model number comes in many flavors, such as PD, A, B, D, and most recently PF. I chose the NCR18650PD series as it is designed for higher current rates than the others, was available about the time our vehicles were built, and perform better than the higher energy versions that are designed for much lower discharge rates. It's resistance is lower and voltage doesn't sag as much during acceleration-like currents. Searching online shows a spec sheet from SANYO (now Panasonic) as well as presentations from Panasonic, talking about the NCR18650PD and their NCA technology.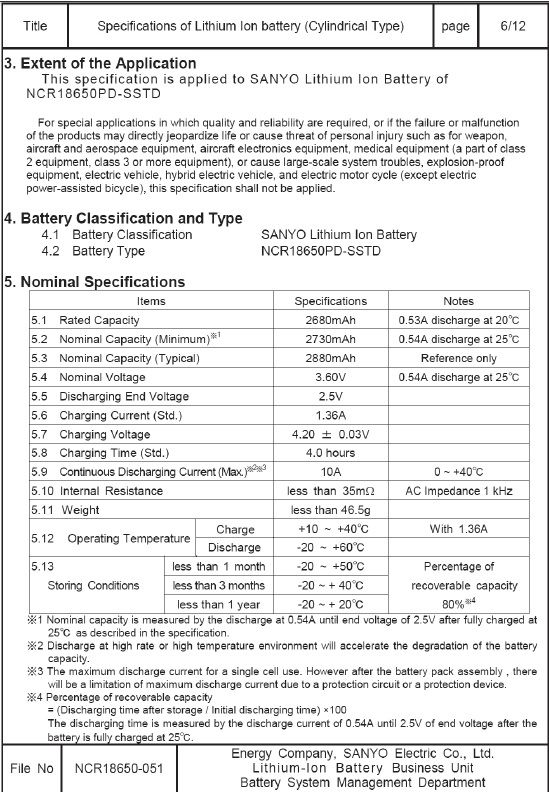 This cell is rated at 2.9Ah. The ones in our car may be 2.9Ah, 3.0Ah, or even 3.1Ah, I have no idea.
I also assume our packs are made up of 4508 cells arranged in 92 in series and 49 in parallel producing approximately a 47kWh pack.
I believe the upper 5% and lower 5% are inaccessible, giving us 41.8kWh usable.
Maximum capacity is reached when a cell of this chemistry is charged to 4.2V. However, to reduce stress on the electrolyte to improve cycle life, I think they only charge the cell to 4.15V/cell with a current taper, which provides 95% of rated capacity. This is the charging algorithm used when using Extended Charge. Here is a screen capture of my car finishing charge when extended charge is selected.
Standard Charge charges each cell to 4V without any taper, allowing 80% of rated capacity to be achieved.
This screen capture is of my car when standard charge was selected.
To cycle the cells, I chose a Dynamic Stress Test (DST) which is a standard test used by Society of Automotive Engineers (SAE) for batteries. It is a series of charge and discharge amounts, which for lack of a specific driving cycle, I felt stressed the cell in a similar way to the way one would normally drive.
Most of the loads are between 10-20kW with some bursts of 50-75kW which is reasonable for normal driving (not in sport mode). It also subjects the cells to regeneration power from 10-40kW levels.
I chose to put the cell through this "drive cycle" over and over until a certain amount of energy had been removed.
I tested 4 conditions:
Extended charge then driving 115 miles until the Low Battery Warning light came on
Standard charge then driving 95 miles until the Low Battery Warning light came on
Extended charge then driving 60 miles
Standard charge then driving 60 miles (this is my normal usage pattern)
I charged the cell at C/5 (5 hour rate), similar to what our vehicles charge using the 10kW charger.
Full details of the testing protocol are here.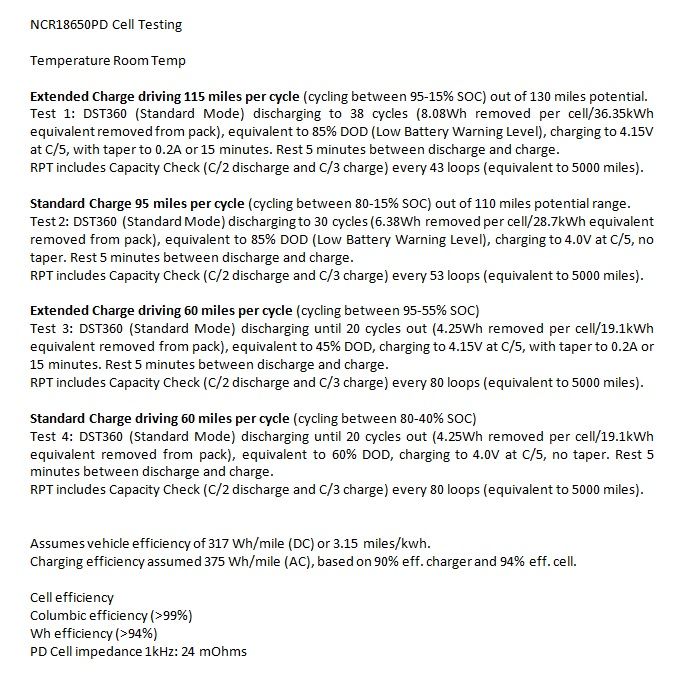 In an ideal world I would have had many cells to test under each condition and in a climate controlled environment. However, I was only able to test each scenario with two cells each and in an open lab where temperature fluctuated from 20C-30C (68F-86F).
Here are the results cycling the cells through 90k miles of the DST-360 regimen.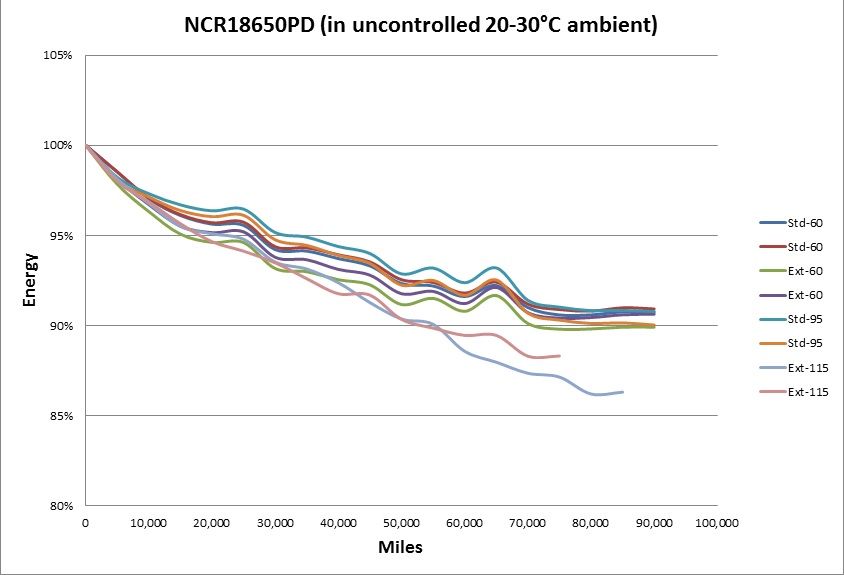 The testing took many months and the variation in capacity tests (at every 5k miles) is due to different temperatures in the lab the day that test was performed. After 90k miles these cells lost ~10% capacity under 3 of the 4 situations. Only when they were fully charged (Ext Charge) and completely discharged (down to 15% SOC) did they deviate from the others losing ~13%.
Notice that the cells lost 5% within the first 20k miles, then it took another 70k miles to lose the next 5%. I'm not saying our packs will behave exactly the same as these cells as it will take us 3-4 years to reach this mileage, so calendar life degradation will be additive. Additionally, these cells were not subject to extreme ambient temperatures, nor did they ever sit fully charged (Ext Charge) for long periods of time. All of these factors will cause the cell to degrade faster than what is shown. However, even if the cells decay twice as fast as these in real life. we will still have a ~100 mile range EV after 100k miles!